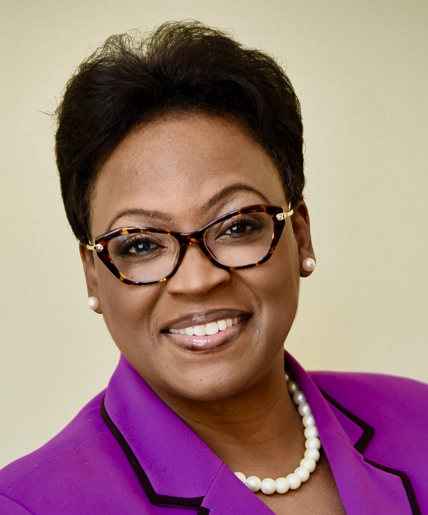 LaWanda Ragin Law, a native of South Carolina. She is the wife of Senior Pastor, Kenneth K. Law and the First Lady of The Embassy.  She and her husband served faithfully at New Birth Missionary Baptist Church under the direction of their Spiritual Father, the late Bishop Eddie L. Long for many years as members and as ministers.  New Birth Missionary Baptist Church holds an even extra special place in her heart because that is where she and Pastor Law met. They were married in August of 1998.
Mrs. Law graduated from South Carolina State University with a Master of Arts Degree in Rehabilitation Counseling and has an undergraduate degree in Criminal Justice.  She has worked in the Private and Non-Profit Sector of Mental Health, Substance Abuse, Child Protective Services as well being a DeKalb County Juvenile Probation Officer.
Mrs. Law made a shift in her career towards Human Resources, in which she has worked in that industry for the last 18 years. She has held many senior level management roles for some of the most recognizable names in Corporate America, such as The Coca-Cola Company, Emory, American Red Cross, Verizon Wireless and worked as the Vice President of Human Resources for Hospice Savannah, Inc.  She now works as the Chief Of Staff for The Embassy Church, lends her expertise consulting in the area of Human Resources, is a Motivational Speaker and a Professor of Business.
As a wife, she understands her role in this great vision that God has called forth. While obligations to ministerial commitments are a priority, Mrs. Law puts it all into perspective in knowing that her first ministry is to her husband. She has carried many titles but the one that she delights in the most is being called a "Helper" to her husband. Today she graciously and humbly serves in many facets and always keeps a pulse on the needs of her loving husband, Pastor Kenneth K. Law.
Anyone that knows Mrs. Law is immediately drawn to her grace, humility and her kind spirit. Mrs. Law attributes her lady like qualities to being reared by a loving mother who supported her faithfully, instilled in her strong values and modeled the gracefulness of being a lady. In addition, she grew up having very strong grandparents in which they poured great wisdom into her life from an early age.
Mrs. Law is passionate about helping other ladies move into their ordained destiny and purpose. She is never satisfied with the status quo, but is always encouraging ladies to excel and reach their full potential despite their circumstances. She delights in seeing ladies walk in grace, elegance, authority and she takes great joy in seeing them grow deeper in The Word and closer to The Lord.
Mrs. Law also has an international anointing and has traveled globally to minister to the people of God. She is an Elder, serves as the Chief of Staff for The Embassy Church, leads the Women's Ministry (Heart to Heart), an Adviser/Confidant to Pastor's Wives and serves as a Spiritual Mother to many; young and old.
She delights in this Scripture reading in Jeremiah 29:11.  "For I know the plans I have for you, say the Lord, plans of good and not of evil, to give you a future and a hope."